A first class package sent from Pennsylvania to the Seattle, Washington area has been reported missing/stolen.
The package contained the following:
1899 $5 chief note in fine condition- serial # ( N79553616)
1896 $1 educational note in vf condition serial (13655)
1901 $10 bison note in fine condition (E51817503)
Ancient Coin
The following coin was misplaced into the wrong person's post office box at the Avalon Post Office in California. No attempts have been made to return the coin.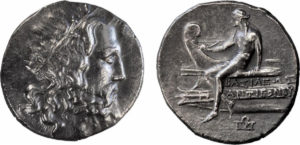 Macedonia, Antigonus Doson. Tetradrachm
Anyone with information contact:
Numismatic Crime Information Center